I invite you to help you with this image illustrating the different lengths of chains available to choose the desired length.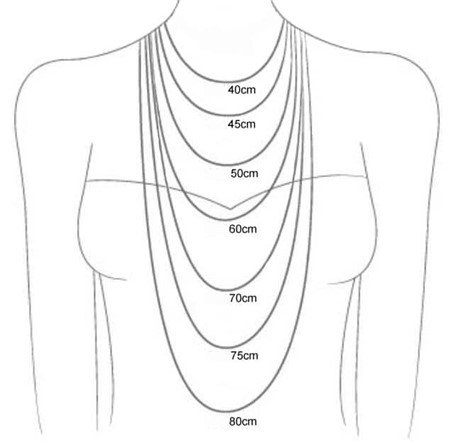 Short necklace or long necklace, it is often difficult to choose the length of a necklace.
Choker from 38 cm or long necklace up to 80 cm, a necklace can be worn alone or as a composition of necklaces and in this case it is interesting to play on the lengths of chains.
At Désirée Schmidt Paris, you can choose your optional necklace length on each product.
Child size or crew neck: 35 to 40 cm (adjustable)
Standard size: 40 to 45 cm (adjustable)
Mid-length (above the chest): 50 to 55 cm (adjustable)
If you would like another length, please do not hesitate to
contact me
All the necklaces are mounted with an extended chain of 3 to 5 cm in order to be able to adjust it to your taste.
To choose the desired rendering of the necklace around the neck, use the visual for help.
Please do not hesitate to
contact me
if you have any questions, I will be happy to help you.
I offer bracelets of different sizes for Children, Women and Men.
For a child you need a length ranging from 12.5cm to 15.5cm.
Standard bracelets measure from 15.5 to 18.5cm.
For a generous wrist you need a length ranging from 18 to 21cm.
All bracelets have an extended chain of 3 cm to adjust it to your liking.
To know the size of your wrist and to help you, I suggest this method to be carried out at home:
1. Take a sewing thread
2. Wrap it around your wrist, making sure to adjust it to your waist neither too wide nor too tight.
3. Report the length obtained on a ruler and you will get your wrist circumference
4. For bangle bracelets, please refer to the table below
Size

56

58

60

62

64

66

Diameter

56 mm

58 mm

60 mm

62 mm

64 mm

66 mm

Wrist circumference

Under 14 cm

14 to 15 cm

15 to 16 cm

16 to 17 cm

17 to 18 cm

18 to 19 cm

B

and length

13 cm

14 cm

15 cm

16 cm

17 cm

18 cm
Do not hesitate to contact me if you want a particular length by email: contact@desiree-schmidt.com if the model allows it.
In my workshop, I use standard French sizes, which can range from 40 to 70 depending on the model. Select your usual size, if you hesitate between two sizes, I advise you to take the larger size.
If you don't know your ring size, I have three methods available to you at home.
* First method: the sewing thread
1. Take a non-stretch sewing thread or a ribbon
2. Wrap it around your finger at the level of the 2nd phalanx, making sure to adjust it
3. Record the length on a ruler and measure the length obtained to the nearest millimeter.
You can use a tape measure instead of string or paper, you will get your finger size straight away.
If the finger size is between two sizes, it is advisable to take the larger size.
Make sure to measure your finger without getting too cold or too hot and rather at the end of the day.
Do not hesitate to redo the measurement several times to get the right size.
* Second method: The printable ring sizer
2. Position one of your rings on the different circles until it matches perfectly. The black line should not disappear under your ring, but appear on the inside of the ring without leaving any space
* Third method: Measure the diameter of a ring
If you already have a ring that fits your finger size, you can use this ring to find your size, by following these steps:
1. Place the ring on a flat surface
2. Measure the diameter of the inside face of the ring.
3. Record the diameter in the ring size correspondence table and determine the size of your ring.
If the diameter of the ring falls between two sizes, it is advisable to take the larger size.
Do not hesitate to redo the measurement several times to get the right size.
Table of correspondences by country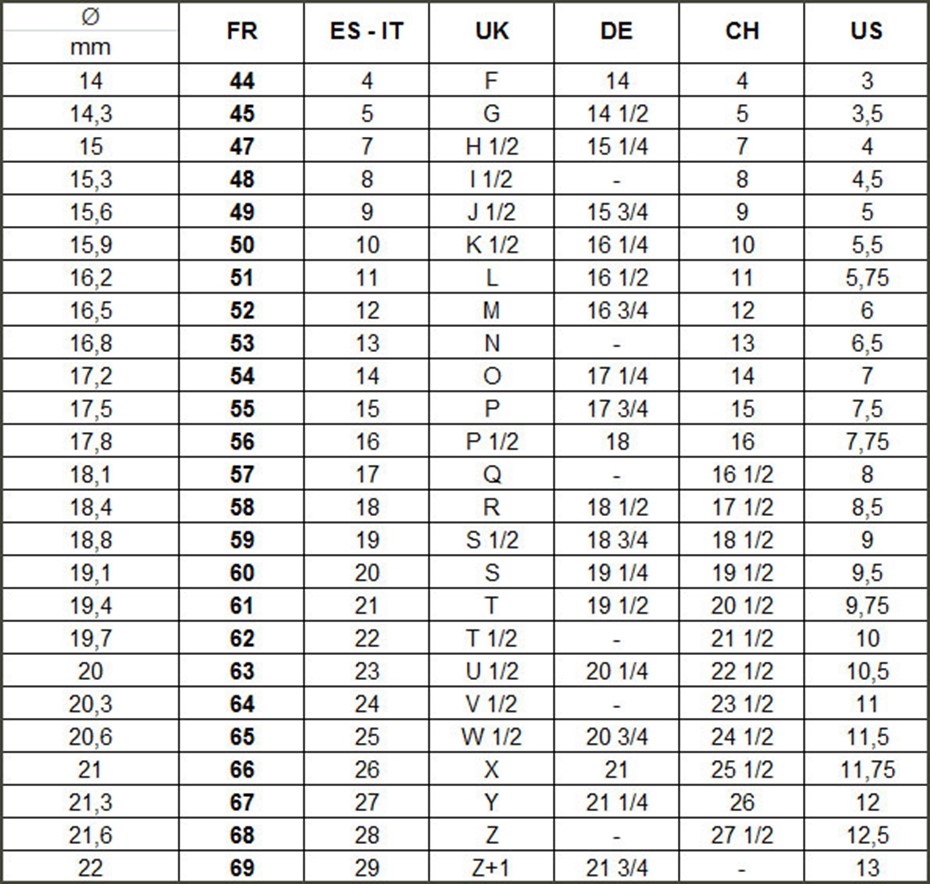 * Fourth method: Use an adjustable plastic ring sizer
This is arguably the best way to find your ring size, as this ring sizer has several advantages: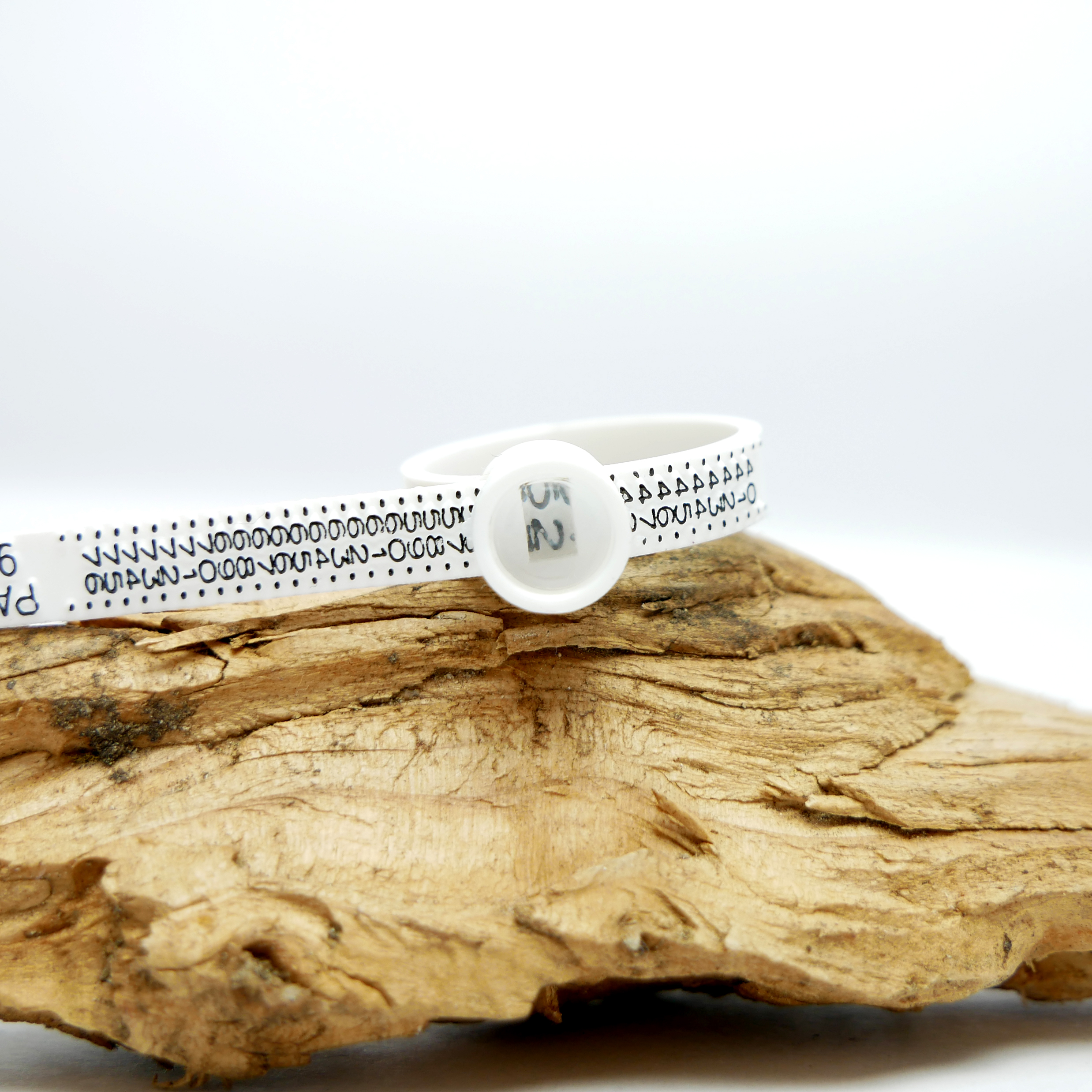 o 100% reliable and precise measurement. With the plastic ring sizer, the measurements are already printed, you just have to rely on these measurements
o Ready to use: no more practical work, the ring sizer can be used right away
o You can reuse it for the next measurements or to measure your friends' finger circumference
It costs only 2 €. You can order it
here
. It will be refunded to you from your first order of the ring.
The size of a ring is the circumference of your finger in mm. If your finger size is 44mm then the ring size is 44.
When ordering a wide ring, don't forget to add a size. If you are doing a 52, you will need to order a 53 for a large ring.
Feel free to experiment with several methods to see if you always get the same result.
It is advisable to take this measurement at the end of the day, because the cold tends to shrink the finger.
Yes, for all online payments on the site, your information is entered into a secure SSL web page. You are then connected to authorization servers intended to authenticate and validate the data provided, in order to avoid any fraud.
Your card information will never be stored on my server.
Payments by Paypal, MasterCard, Visa or American Express are accepted, as well as transfers and checks (longer delays).
My silver jewelry has blackened, what should I do?
Silver jewelry can darken and tarnish but don't worry, oxidation is a completely natural phenomenon that can be accentuated depending on different factors: the acidity of the skin, contact with perfumes, creams or even chemicals like chlorine. They may also turn black if stored in a humid place.
o You can make silver sparkle again by using a silver polish. There are also little homemade tips like toothpaste (very effective!).
o Always use a soft cloth to avoid scratching your jewelry.
If, despite cleaning, your 925 silver jewelry still shows stains, do not hesitate to contact me by email: contact@desiree-schmidt.com
Costume jewelry is generally made of brass gilded with fine gold. It is a fine deposit of gold by electrolysis on a brass base. These jewels are the least expensive but also the most fragile.
I advise you not to sleep with your jewelry to avoid friction, not to expose them to water and acid solutions, such as perfume and soap. Take them off for sports or cleaning. In addition, if your skin is naturally acidic and your jewelry generally has a tendency to darken, you will need to be particularly careful to follow these tips to keep your jewelry golden for a long time. If the gold layer fades, it will reveal the coppery color of brass.
Cleaning the Gold Plated: Avoid contact with water, simply use a soft, dry cloth to revive the shine of your jewelry.