RECYCLED, UPCYCLE AND RECYCLABLE 925 SILVER : THE VIRTUOUS LOOP!
RECYCLE YOUR OLD JEWELRY DESIREE SCHMIDT PARIS
#IRECYCLEMYJEWELRY
Désirée Schmidt Paris is setting up a circular economy mode: recycle your old Désirée Schmidt Paris jewelery in 925 silver and receive, in exchange, a voucher for -20%.
You no longer wear your Désirée Schmidt Paris jewel and want to give it a second life? Send it back to recycle or upcycle and as a thank you, we're giving you a 20% sitewide discount.
1 x jewel sent = 1 x 20% reduction voucher.
(Each voucher is valid for an order on the whole site except jewelry already at reduced prices: 5 vouchers = 5 orders at -20%)
Please note that your jewel must be in 925 silver and have been manufactured by Désirée Schmidt Paris.
The jewel received will either be upcycled (reused) or recycled (remelted).
If you have any doubts about the provenance of the jewel, contact us beforehand at contact@desiree-schmidt.com and send us a photo of the jewel concerned.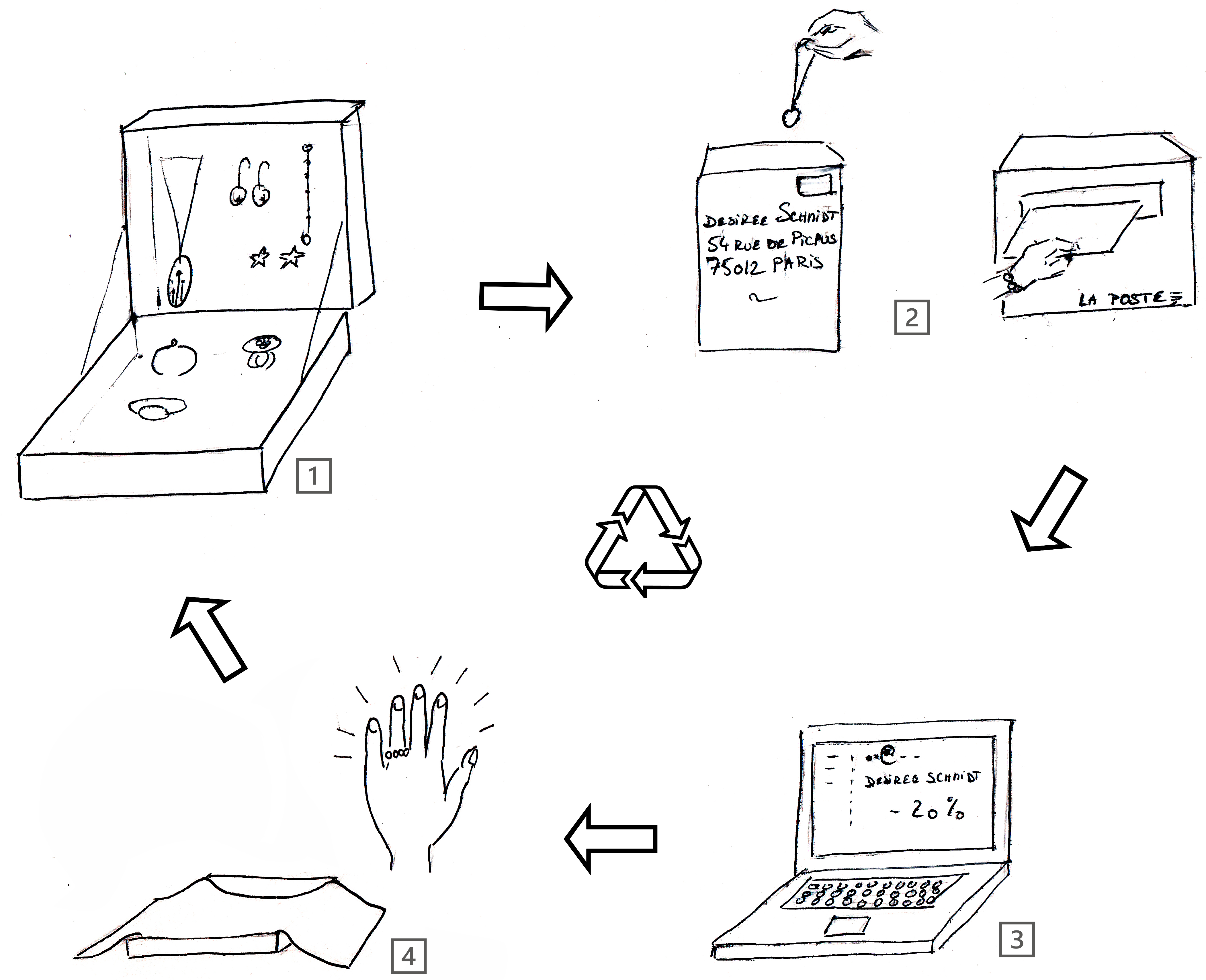 1. Select the Désirée Schmidt Paris jewelry you want to part with.
2. Send the jewelry by letter followed (shipping costs at your expense) and insert your name, first name and email in the shipment:
Desiree Schmidt Paris
54 rue de Picpus
75012 Paris
France
Take note of the tracking number.
3. You will receive your 20% discount by email upon receipt.
4. Buy your new jewel at a reduced price on www.desiree-schmidt.com
Since its beginnings, Désirée Schmidt Paris has made it its mission to be a responsible brand by favoring its suppliers and service providers closest to it, by promoting French manufacturing, by offering high quality costume jewelry and recycled packaging. and biodegradable.
Already today, in pursuit of a sustainable development approach, we offer a selection of recycled silver jewelry ♻.
To go further, the brand also wants to give new life to all Désirée Schmidt Paris jewelry that you no longer wear. These jewels can have a second life by being recycled or upcycled.
Silver mining is an industrial activity that remains very polluting, even if today we control the preservation of natural environments and the use of chemicals. Greenhouse gas emissions from silver mining remain a problem for the planet. Recent studies show that using recycled silver reduces greenhouse gas emissions by 66% compared to silver mined from the ground.
To obtain recycled silver, used jewelry is melted down, refined and purified through a waste treatment process and then transformed into new silver in the form of granules.
Thus, recycled silver has the same durability and quality as earth-mined silver.
As far as possible, we favor upcycling by renovating your old jewelry to give it a second life.
A low-cost repair service is offered on the site.
DESIREE SCHMIDT PARIS, COMMITTED BRAND
The products used in the workshop can be dangerous for the environment, but fortunately there are some more environmentally friendly alternatives.
For example, the pickling solution - which cleans metals after soldering - that we use in the workshop is made up of alum powder or a white vinegar/salt mixture, which very effectively replaces pickled acid.
In addition, we favor recycling for packaging and postal items. The packages are carefully prepared from recycled and/or upcycled envelopes, cardboard, foam, bubble wrap in order to promote zero waste. The cushioning sheets come from paper recovered from old packaging.
The jewelry boxes and cases are made from recycled cardboard and agricultural waste (corn) and raffia, and can be placed in the composter without any problem.
Every small gesture counts to preserve our planet.
Désirée Schmidt Paris is proud to align itself ever more with an ecological and social conscience.