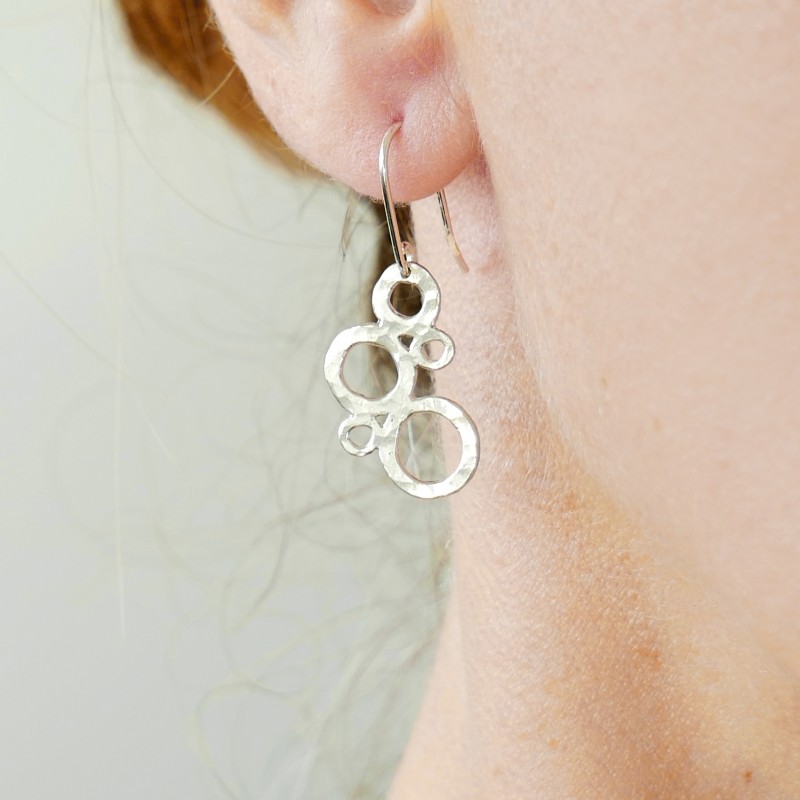  
Awa bubble pendant earrings. Sterling silver.
Bubble earrings from the "Awa" collection.
Medallion size : 1,5x2,3 cm. Total chain length : 3,2 cm.
Sterling silver.
Made in France.
Free shipping !
Free return
These sterling silver attractive earrings of the Awa collection are light and creative.
They are set on a hand-made sterling silver hook, to avoid allergies. The hook is closed by a small hypoallergenic plastic hood to avoid the accidental losses. Comfortable, they do not pull the ear.
The rings are delicately hammered.
They go as well to the daily life as for the special opportunities.
They are perfect for all the forms of faces and all the haircuts. These earrings accompany perfectly the big necklace of the same collection.
Awa means simply Bubbles in Japanese.
They are perfect for all the styles and all the ages.
They are created and made in a craft way by Desiree Schmidt in her workshop in Paris.
They are delivered packed in an attractive wooden box (made in France) and a cotton bag.
Customers who bought this product also bought:
4 other products in the same category: